Best house movers and packers in Dubai are successful in providing services to their clients. We at saba movers LLC are the best movers in Dubai that provide a number of services to clients and meet their needs. It makes use the expert house packers and movers in Dubai.
Our movers and packers in Dubai give the complete solution and has skilled experts who handle all goods efficiently. Our aim is to give efficient packing and moving facilities and maintain 100 % customer trust. It develops the confidence of our customers and proves the best-moving company in Dubai.
What are House Movers and Packers in Dubai
House Packers and Movers are companies that pack and transport all your goods safely, including baggage, furniture, artefacts, etc. We at saba movers provide you best moving solutions. House Packers and Movers are groups of skilled people that belong to a particular organization. The main aim of house packers and movers in Dubai is to help you with packing and moving needs. We help you to pack your goods properly and move your goods on time.
Why house movers and packers is important?
There are many reasons that make the hiring of house packers and movers important.
Door-to-door moving services
Door-to-door moving is an important moving service where the movers handle the packing of your items and move it to their destination on time. These services offered by saba movers LLC benefit you whether you move within Dubai or out of Dubai.
Complete relocation services
Companies that give the moving and relocation services completely from beginning to end are called best house movers and packers. If you are moving from one home to home in Dubai, professional house packers and movers in Dubai LLC will help you to make your move stress free. We ensure to delivers your goods in the best state.
Packed the items expertly
A right pack safe your items while it is transported. Humans will be in charge of everything, even hiring the best movers and packers. And there is always a chance of human errors when people work. But it is not the case when experts work, who have a huge experience. Experts can pack your items efficiently and ensure a smooth move.
Bring the best moving supplies.
Packing is an important part of the moving process. Here the role of hiring house packers and movers comes. We at saba movers LLC provide you with an excellent moving service that also consists of packing. We use quality packing material to pack your goods and avoid damage.
Provide a range of services.
There is no need to hire extra labourers to load or unload your goods if you hire the best house movers in Dubai. Saba Movers LLC has experts that handle packing, moving, loading, unloading, storage, and many more services. The best house packers and movers in Dubai are skilled in packing your goods with care.
Usually, the packers can handle the pack and move but are not responsible for further work. But Saba movers can provide you with add-on services also. We also handle the unpacking, rearrange, and assemble your furniture after reaching the destination. These services are offered by us to ensure everything is smooth and organized for you.
Transport insurance is important for the protection of people who get moving and packing services, as we know that insurance protects people from any type of damage or accident. When you take the packing and moving services from saba movers LLC, they provide you insurance to cover all damage associated with it.
Choose the Best Home Movers in Dubai
To hire the best house packers and movers in Dubai, you have to search around and ask your friends or colleagues about professional moving services. You can check about moving companies on the Internet. Saba Movers LLC is the best house packers and movers in Dubai that provide you with a range of services at affordable rates. We ensure the safe move of your goods from one place to another.
Our Best Movers and Packers Services
We at saba movers LLC provide you best packing and moving services. Here is the range of services we offer to our clients
Our local movers in Dubai have a huge experience in handling everything efficiently. We relocate your move from one part to another easily. We save you time and money and provide you best local moving service at affordable rates.
International moving services
Along with the local move, we also take responsibility for international moving services that meet the people's needs. We have the high years of experience in international moving services, by which you can easily move your goods from Dubai to abroad.
We pack all your goods, or some parts efficiently as you need. Our packing methods use quality materials to pack your goods and start the moving process.
Saba Movers provide you with the best self-storage and full services storage services. We have various options in storage room sizes to store your goods accordingly.
Do you have high-value goods to move? If yes, then our experts are available for you. We have a team of experts that build crates for your goods and ensure that it is protected completely. Every crate is custom build by the proper facility to store and transport your goods safely.
Furniture moving services
Our experts at saba movers LLC delivers your furniture to your doorsteps, whether you are in Dubai or outside of Dubai.
Why choose saba movers
There are many good reasons why you should choose saba movers as the best home packers and movers in Dubai.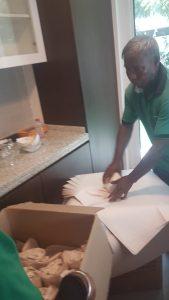 We provide the best house packing and moving services at affordable rates
We provide you with moving services on time
We provide you with 24/7 services
We have a team of experts that handle your move and lead the stress-free experience.
We take care of all things, from packing and moving to loading and unloading and meet clients' needs.