Our Services   –   Corporate Move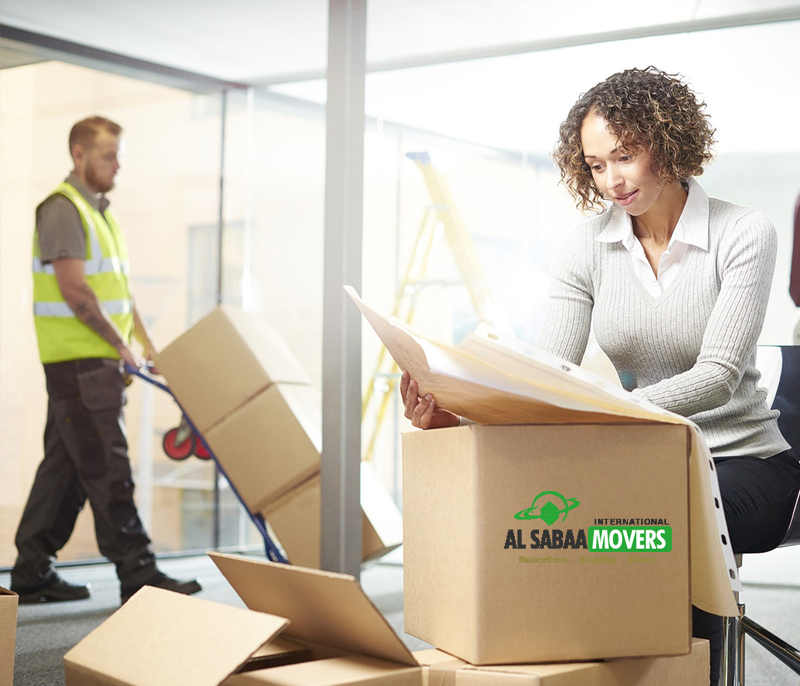 Corporate Movers in Dubai and UAE
Corporate moving services is a type of service which is offered by a handful of companies in dubai, Saba Mover is the best corporate moving company in dubai, which also operates on an international level. Saba mover also provides storage, transportation, documentation and many more moving services, with a goal to satisfy our clients by providing the best moving services in dubai. 
Best Corporate Moving Company in
Dubai
Corporate moving is always a challenge, for our clients as well as for us. Relocation of your work place creates its own challenges, but we are here as the best corporate moving service providers in dubai. Saba mover has previously worked with a number of clients, helping them accomplish the ambition of proper office relocation from one end of dubai to the other end.
Offices are very important when it comes the clients and their businesses. As sudden change can lead the need for office relocation, this is often a very challenging task, as moving office goods and placing them in proper order to another office creates tough challenges.
Saba mover is the best office relocation company helping clients to move their office stuff such as computers, furniture and desks with ease and comfort. Saba mover is are also the best international moving service providers in dubai, apart from that saba mover also provides storage facilities to businesses, for storing their goods and office stuff for a short period of time. We are a group of professionals which work on behalf of your clients helping them move their office goods and services.
We ensure that you will always have an awesome hiring experience, getting connected to saba mover the best corporate moving service providers in dubai. We are the most professional movers and packers in the city of dubai.
Why choose us as best corporate movers company in Dubai?
We have moved 5000+ corporates in entire UAE with a smile. Our highly skilled and professional team will give you the experience of our quality service.
The term best has its own meaning of being the leader in the field, and saba mover is the best corporate moving company in Dubai.
Saba mover also provides office employee relocation services, I case the employee of the office needs to shift to another location, we help the employee move from one location to another, shifting his goods and arranging it properly in the new location.
Saba mover provides a complete end to end office moving services to its clients with a motive to give our clients complete satisfaction in relocation services.
We provide our clients with a wide range of services such as documentation, transportation, loading, unloading, relocation, unpacking and placing of corporate goods.
Saba mover possesses a professional and highly skilled workforce which are experienced and know ledged in their work.
We also provide our service at highly competitive prices, a price which is highly convenient to our clients, we provide customised office relocation plans to our clients, long distance moving is also within the scope of our movers, we provide a complete full service moving facilities to our clients.
How Our Corporate Services Work
Saba mover is the best corporate moving service provider in duabi, providing a complete satisfying experience to its clients.
Documentation:Before the employee relocates or the office moves are to be moved from one place to another, documentation process is a must. Saba mover on behalf of the client helps clear the documentation process in case the oversea moving of goods for one country to another.
Packaging & Transportation: After successfully completing the documentation process, it's important to pack your office goods properly before transportation. As packaging well can help avoid any possible damage to the office goods. Office goods consists of electronic stuff such as computers and keyboards, these are highly delicate and prone to damage therefore need to packed with care. Our team makes sure to pack your office goods in a cardboard or thermocol box before transportation.
Transportation: Saba mover provides the best transportation services on moving of goods. Shipping, airways or road ways, we make sure to take the best and most convenient rout to deliver your office goods on time. We make sure that your goods are shipped on time, with proper packaging and loaded properly on the transportation vehicle.
Unloading: After the completion of the transportation process, our team makes sure to unload the shipped goods properly from the vehicle, as it's always important to unload the goods properly in order to avoid any damage. Our professional are highly skilled in the work of unloading.
Delivery and placing: Saba mover is a corporate mover company in dubai which provides delivery and then unboxing and placement services to its clients. Placing corporate goods in the relocated office in a proper manner, helping client to be relaxed and stress free.
Saba mover is the best corporate service moving company in dubai which provides end to end moving and transportation services to its clients. We also provide storage services and international moving services for overseas corporate.